CRYPTO NEWS
New Coins, BlockFi Interest Account Changes & More
Disclaimer: The following article is part of Cryptonews Deals Series and was written as a promotional article in collaboration with the sponsor of this offer. If your company has an exclusive promotion that you would like to share with our readers, we invite you to reach out to us. Let's build together.
Cryptoasset platform BlockFi is adding new features and coins, improving its existing offering by the day, to the delight of their users. In addition to new supported assets, the platform is also adapting its BlockFi Interest Account (BIA) rates, introducing a new partnership, and more. Here, we will offer an overview of what has recently changed.
New Assets
BlockFi has recently added Multi-Collateral Dai (DAI), Basic Attention Token (BAT), and Uniswap (UNI) to their offering. These assets are subject to an introductory APY rate when held in a BlockFi Interest Account (BIA), valid through July 31st: for DAI, this rate will go up to 8.5%; BAT will get up to 3.65%, while UNI will have up to 3.75%. Customers should also keep in mind that the rate may be adapted in August, depending on market conditions, but the assets can also be exchanged against other ones available on the platform.
While each of these assets comes with its own set of perks and use cases, making them a useful addition for any crypto enthusiast who appreciates the technology and wants to participate in their ecosystems, they are also extremely useful for diversifying portfolios. With their strong fundamentals, each asset already has its niche in which it belongs, making it a welcome addition to anyone's portfolio.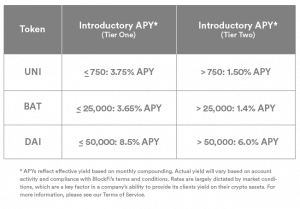 Changed BlockFi Interest Rates (BIA)
BlockFi constantly updates their interest rates based on market conditions. Bitcoin (BTC), Ethereum (ETH), Chainlink (LINK), Litecoin (LTC), PAX Gold (PAXG), USD Stablecoins (BUSD, GUSD, PAX, and USDC), and Tether (USDT) were updated with new rates and tiers that went into effect on July 1st. The new rates are available on their website.
These rates are applied to all assets held in a BlockFi Interest Account, and are made so that the platform can continue delivering high-quality, long-term service and rewarding interest yields in spite of market volatility and often dramatic price shifts. For customers, this means that BlockFi remains one of the best platforms for achieving and maintaining financial stability using crypto assets, no matter what happens in the market.
Partnership with Matt James
The platform has recently partnered with Matt James, the latest contestant on the ABC series The Bachelor. James will help BlockFi educate the public on various matters concerning cryptocurrencies, their adoption, crypto integration into existing financial services, and democratizing access to crypto investing. The first part of the educational series is already live, with five more in the pipeline, where James breaks down the basics of crypto without the jargon that often puts people off.
Special deal: BlockFi is currently offering a bonus which depends on the amount you deposit. This bonus can go up to USD 250 and it is paid directly into your account in BTC.